Hey Everyone,
long time no update. This weekend I went to observe the 2250 Fantasy tournament hosted at the GW HQ in Baltimore Maryland by
The Inner Circle
(not to far from American University where I study). While there I entered the painting contest with the Jarran Kell model I painted. Luckily, with some stiff competition, I pulled ahead to first! My winnings include a very nice plaque and a Dark Elf Witch Command (which I really cannot use: I do not play Dark Elves or even fantasy). So if anyone would like to trade with me for these pretty girls, drop me an email at
Dictator93@gmail.com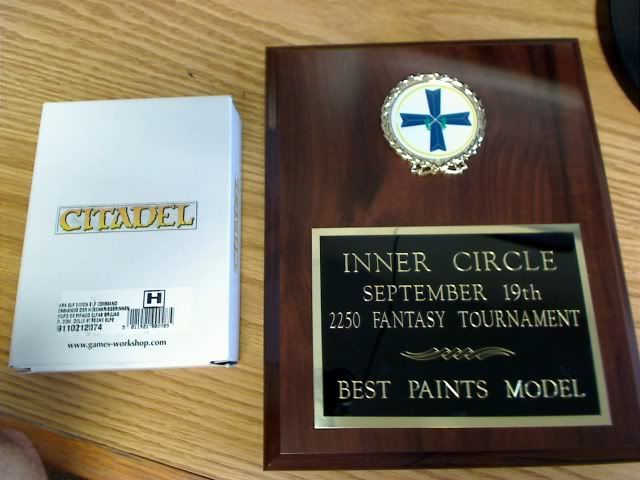 I am looking for one of the new Ogryn models in trade for this.
Beyond that I thought I would comment on how what a nice gaming group with The Inner Circle is. At each tournament they offer really cheap and tasty food, a $5 entry fee, and some wacky and awesome prizes. The painting competition they have is free to anyone and you need not be signed up in the tournament. To show you how funny and awesome these guys are, here is a Class A example:
Scooter (the main host of the Inner Circle): "Hey, where is ***** at?!"
"Here he is!"
Scooter: "And the final prize goes to the person with the highest games score and lowest sportsmanship score. Page 2. Sportsmanship is the most important rule!"


:D

Quite an epically hilarious moment. Scooter is a great guy. He even allowed my friend to borrow twenty some zombies for his Vampire counts army because he had left his box at home. A great group of gamers.

Also while there I had time to add some stuff to my Vanquisher. I painted the barrels and finished painting the twin-liked heavy stubber. I still have a lot to do, but it mainly consists of highlighting.